T-Squared
Joined: 06 Jul 2011
Posts: 45
I'm not sure if this is a secret that Cyan wants out
(Don't worry, I found them on accident, and my findings expanded from that point on from deductive reasoning!)
, but I believe I have found the real-life brand of the elusive D'ni Goggles that were used not only in Riven, but in Uru!!! (and possibly Myst V as well, haven't played it yet.) And just to let you know, the goggles used as props in Riven are NOT welding goggles.
I didn't know they still existed! I thought the goggles used in Riven were as old as they looked (at least 60 years old.), and were the extremely rare kind! Thankfully, while perusing through eBay for another pair of D'ni-like goggles, a kind soul posted THESE goggles
(AND I WON THEM!!!)
, and I found 3 different websites with all of the same type of goggle.
http://cgi.ebay.com/ws/eBayISAPI.dll?ViewItem&item=200777575684
Various images of the same brand for closer inspection
Compare those goggles to these images:
Atrus' Goggles
Gehn's Goggles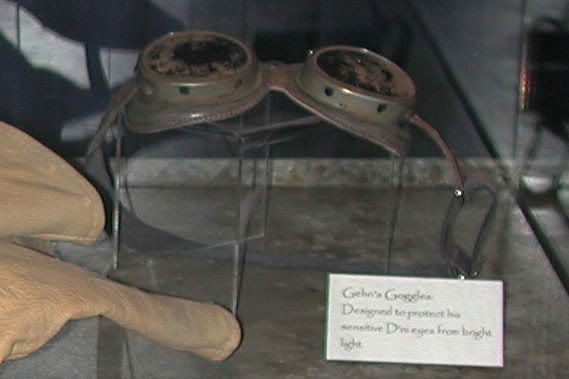 I would have posted this sooner, but I didn't want anyone to steal my chance at getting my own pair of D'ni Goggles
In fact, while I was drafting this post [on June 20th], the bidding period still had one day to go.
The brand is Cébé, a French company that produces more recognizable single-lens and metallized-lens snowboarding goggles.
In fact, the goggles are the exact same in Uru!! The Cébé logo, believe it or not, is actually present on the texture used for the goggles(!!!), but it's very small, and very compressed, so as to be barely readable.
The goggles are different in Riven and Uru, presumably because they are of an earlier model.
(My goggles have red X's on the headband but I can probably change that later.)
UPDATE: I found a picture of the goggles that show the back of the strap clearly! The X's on the goggles are untouched!!!!
This is the REAL DEAL!!!
)
Unfortunately, while they're not rare, the goggles are hard to find. I don't know of any other websites that sell them, but if you find a good pair that aren't too expensive, I suggest you take the chance! (Mine cost approximately $42!)
Just a bit my idea, in light of this, I present a motion that the word for "goggles" in D'ni should be "saybay". (sAbA)

_________________
...then it crapped the bed and stackdumped.

The Time-Traveling Stranger.


Last edited by T-Squared on Mon Jul 02, 2012 3:59 am; edited 3 times in total