Nalates
Joined: 11 May 2006
Posts: 1673
Location: California
Since Dot is busy in Devokan I'll add a post.
Sunday the Channelwood inspired area of Devokan opened. They have yet to complete it. But I guess 90% of it is done. This is their first from scratch build. They had to come up with their trees, walks, furniture, textures... everything. There are a couple of gotcha's here and there.
I suspect those will get handled. However, the place is just nice. There is something calm and peaceful about this team's building style. I love the entire Devokan region.
I snapped some pictures while I was there. They are clickable.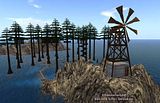 If you just visit and do not change your environment settings this is what you see. Part of what is still in progress is deciding on a default environment setting for the area. That is still in progress according to Dot.
One can change their personal environment settings. Talking with Dot I got the idea that something along this line is what they are looking for... Set advanced water to Murky (a standard setting) and tweak up atmosphere to use Haze at 0.24 and Haze Density around 2 or 3. They are spending more time deciding on how they want it to look so the final result will probably look better than my quick tweak.
That is a little frog someone made. Just too cute to pass up taking her picture.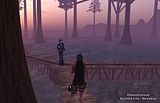 This is Dot and me talking about the Windlight settings, the team, the spiral stairs that were giving me a problem (but I can FLY! So not much of a problem) and just stuff.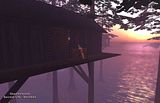 I did not ask if these tree houses in Channelwood-like area are going to be for rent. But what a neat place it would be to live.
The
Devokan-Channelwood Album
on Photobucket
Older images of
Devokan
on KOINUP
Older images of
Devokan
on Flickr

_________________
Nalates - GoC - 418 - MOULagain: Nal KI#00 083 543, Nalates 111451 - Second Life: Nalates Urriah
Guild of Cartographers