Christian Walther
Joined: 15 May 2006
Posts: 668
Location: Switzerland
On the heels of Myst and in anticipation of OSMO, here is a little treat for the iPhone and iPod touch owners among you: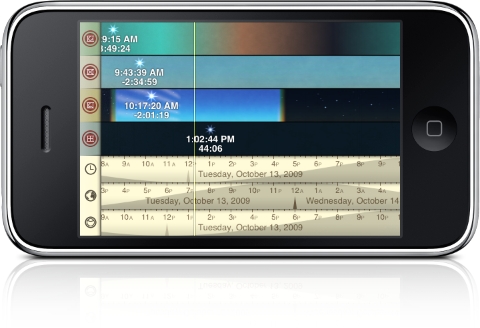 My
Pod Clock
has made it onto the iPhone, and it looks better than ever!
Get it for free on the App Store now.
Just like the
desktop version
from two years ago, it graphically displays the time of day in all four pods in relation to surface time and predicts portal appearances. Enter your own portal observations to calibrate the predictions.
Surface time in local, UTC (GMT), and KI time zones

Built-in data gives you an estimated prediction, your own calibration can make it accurate to a few seconds

Can alert you a specified time in advance of a portal

Drag the time scale to any date in the future or past

Works in portrait or landscape orientation

Share calibration data with Pod Clock for Mac or Windows using the built-in web interface
Obviously this is of limited use right now, but that is supposed to change
soon™
– and I had a lot of fun making it anyway. Hope some of it rubs off on you!


Last edited by Christian Walther on Wed Oct 27, 2010 6:11 pm; edited 1 time in total