ventris wrote:
In your diagram showing the spaces from above, the green interior space is not as wide as the red hallway space. I wondered if the interior is actually that narrow or widens to the full width (length?) of the hallway.
We have no idea what the interior is like; that area is closed off to us. So all we can do is conjecture about it, given the exterior clues we can gather.
We know the width and the angle of the enclosed cowled overhang, and I've been guessing the enclosed interior area of that cowl was used as the stage, and that this cowled stage had been built outside the rock cleft to optimize available audience space inside the concert hall. (Viewed from inside, I think the cowled area would remind you of a bandshell, as in a park)
I just imagined what the optimum seating area might be and drew an area based on that. Some auditoriums go wider, but the seating at the far sides is not so desirable and often means discounted ticket prices! I've extended the stage walls in a straight line and widened the green area in the top view for you, to indicate this. But, as I think DaVinci pointed out, the theater cannot go much wider because it would run into the stairway going down from the Foyer.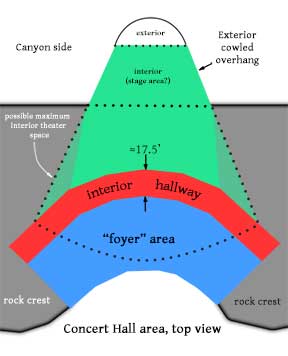 And, taking a cue from DaVinci, I added a couple tiny human figures to the profile view for scale, and colored the corresponding areas relative to the top view. This profile of the available theater space shows that even an interior balcony overhang could be part of the interior design.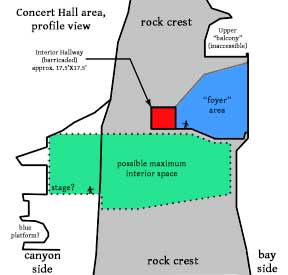 (click for fullsize images)
Hopefully these additions clarify things a bit.
ventris wrote:
When I say Balcony I mean the structure that juts into the canyon. When I say Foyer I mean the structure that faces the harbor. The hallway is what can be glimpsed through the three doors in the Foyer.
I think we're all pretty clear on what the Foyer and Hallway areas are.
But, on the Canyon side, there are
two
levels of platforms within the hooded/cowled overhanging structure, each of which has been called a balcony (we still don't have any guesses about the lower, blue level!). There are also several overhanging platforms on the opposite side of the Canyon that can be called balconies. On the harbor/Arch side of the rock crest, DaVinci has postulated that the lowest horizontal bands in the stone are a balcony of some form, and I have shown that the uppermost extended lip has a basic railing that may indicate it was intended as a balcony at one time. Additionally, the extended diagrams here show that there could be room for a balcony
inside
the Concert Hall. So in discussing this area, I'd just advocate some specific nomenclature when referring to balconies.
Merriam
may help:
1 : a platform that projects from the wall of a building
and is enclosed by a parapet or railing
2 : an interior projecting gallery in a public building (as a theater)