Hi, welcome to the forum! Well, the first thing you need is a place to "host" the picture. What a lot of us do is go to
http://www.photobucket.com
and simply sign up for a free account there. Then you select the picture from your computer, and it's saved on that site. Then you have to get the URL which is the
http://www.photobucket.com/XXXXX
selection. Then, on here, reply, then select the button up above this box that says Img You then stick in your URL then hit "Close Tags". That puts a /img in the code that tells the forum software that the Img tag is closed. Then post.
So, example for my picture below..
Code:
[spoiler][img]http://img.photobucket.com/albums/v509/ToriaURU/leapingMatrix.jpg[/img][/spoiler]
results in this...
[spoiler]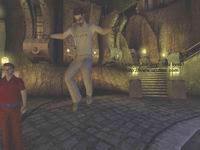 [/spoiler]