As part of the Subterranean Restorations story that has been going on, we've been making these summaries of what goes on for a particular day at SR. ICly, they're billed like so:
Ava Cormac:
One of the questions people most frequently ask me is, "What do you SR people do, anyway?" Well, to answer that question we thought it best to show you some of the daily activities around SR--so we asked our volunteers if we could display some of their journal entries and status logs to show you what goes on on a typical day. Here are the reports I've collected so far, for the dates of July 5th-6th:
Serephina (Archaeology team)
[spoiler]
[/spoiler]
Andy Legate (Guild of Inspectors)
[spoiler]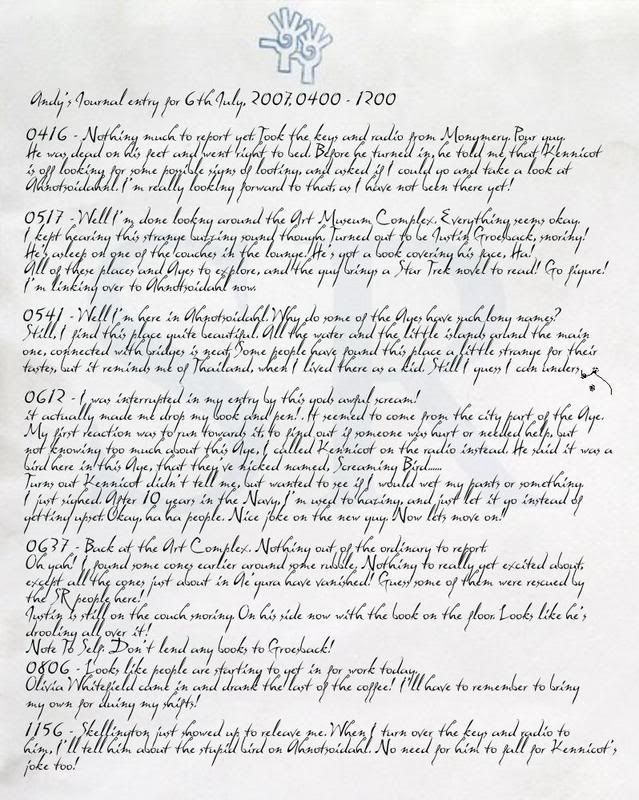 [/spoiler]
Monkeyboy (Archaeology team)
[spoiler]
[/spoiler]
Montgomery (Team leader, Guild of Inspectors)
[spoiler]First of all, thanks for leaving a few slices of pizza from the party. I had to skip dinner and they were a nice surprise.
Just so you know, I asked Ava about getting some fresh batteries for the mag lights and radios, but she just says, "They're coming." We'll see. In the meantime, I suggest we try to ration what we've got.
Kennicot dropped by and claimed he's found the base the looters have been using. He wants to set up an ambush. I told him to give me a few weeks to recruit and train up some more bodies, but he's not the most patient man. Anybody who's interested in risking your life, the sign-up sheet is in the break room.
Oh, one last thing: I've been asked to pass on a request from Ava. A few games on the database PCs are fine, but let's keep the personal stuff to a minimum. 26 gigs of music is a bit excessive.
Thanks, team.[/spoiler]