Nalates was able to visit Devokan during its dying hours. Here is her report in full, copied over from the
.
I'm somewhat sad at Devokan's loss from this dimension and time but so many new things are happening there is little time to mourn. Word has come from the former DRC members that alarms were tripped in the Cavern on Earth. I have yet to sort out all those goings on, but the D'ni Refugees are gathering for a party and working to find out if they can get into a reopened Cavern. Seems KI batteries are in short supply or something.
While I wait I'll write down my account of the final hours of Devokan before the memories start to fade. It's sunny in Minkartah and a squee is curled up in my lap sleeping. Its not Devokan but it is nice. Raining at night.
Many of the D'ni Refugees came to see Devokan before it vanished. Some I had never met in my travels. Many I had never come across in the Cavern either. All were appalled that Devokan must go and struck by its beauty.
Many people were exploring in the final hours and catching up with old friends.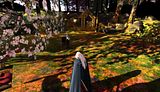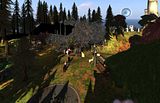 I heard Quin went to the new Devokan to try and save as much of Selinitica and Devokan as he could. I had hoped to save the animals and some of the plants. Quin spoke to Dot about saving more of Devokan. I doubt he has time to experiment. I ran out of time with my experiments and just started moving critters as I could. I figured I would just barely get my transfers done before Devokan starts to scorch. So, I could not stop and coordinate with him. I hoped our simultaneous transfers worked. I have yet to be visit the new Devokan to see how thing faired.
I have pictures of Selinitica before the orbit changed much.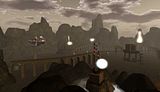 At this point everyone was out, except me. My scanners were showing no humans. The energy the spheres were creating was awesome. Dot said Quin was hoping for some resonance to increase the transfer rate. I would guess he found it. Way to go Quin.
The flyer was here. No one was aboard. I was surprised at the time Dot left it there. I would have moved it to Winterfell but it is keyed to her somehow and won't respond to me. That's good because I realized when she sent her pictures that she had plans for it. I should know to trust her more by now.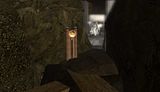 What I call the crystal mine was empty. The crystals there seemed to be resonating with the spheres. Anywhere close to the crystals one could feel the vibrations. Set my teeth on edge…. Wooh! Glad I did have to not stay there long.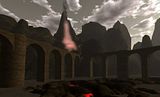 The volcano was much more active. More lave pools had opened. The CO2 and sulfur gassing was not too bad. I remember coming up to Selinitica to warm up during the Devokan winter. Toasty nice. Now the pops and bursts of magma would make that risky.
My scanner had problems with the underground mine. I made a patrol of it to make sure no one was exploring or mining.
I destroyed the locking mechanism at the mine entrance to keep other out. Then the door activator to seal it too. The mine is big. It is completely out of character for the technology I see in Selinitica. I can't imagine who made this mine. Technology there rivals much of what I've seen in forward times. I'm still puzzled.
After riding the elevator down into the mine I destroyed its control too. I didn't want anyone using it to sneak into the lower levels behind me or escape past me and be trapped.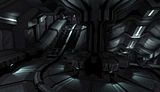 Searching through all the twists and turns of the mine was time consuming.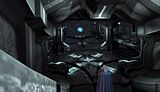 The strange portal was still operating. I really dreaded having to use it to leave the mine. I felt it was the only way to assure the mine was empty and no way in was left. As always it was painful. Dang.
Image from Dot's ship
Dot's Gallery
Dot's pictures show what she and some friends observed from her ship in the last hours of Selinitica. I'll visit the new Devokan or Winterfell and catch up with Quin on whether the transfer worked. My main hope is that he saved the Lost Pages.
As the transfers continued eventually the Devokan island was barren. Not even a cricket was left. As I write now I find I am somewhat proud of that. I suppose some will be unhappy that I took the ants too. Oh well. My little squee friend won't complain… or I'll stop feeding her the strawberries she seems to love.
I had decided to stay as long as I could in case someone might not have heard and come to visit. I would have needed to hurry them out. But, I had the island to myself. The farther out of orbit the planet moved the faster it moved toward the sun. The sky began to change.
At first the atmosphere started to thin and the lighting was harsh.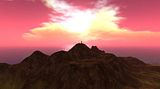 Soon things really began to change. Some if the colors were spectacular. It was as if all of the sunsets this Devokan was ever to experience were to be rolled into one final sunset.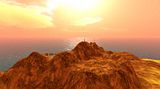 As the planet spiraled in closer the sky and sun got brighter. By this time I was feeling the planet warming. Finally things were getting hotter and smoke began to cloud the sky. I decided it was time to leave. Heaven help any that came after I left. Only a couple of hours could have been left. So... hopefully...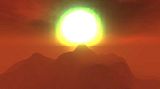 If anyone had seen me leave… I would have blamed my tears on the smoke…
Now this Devokan is gone. …oh… the squee has woken. I'd swear she sees the tears that formed in my eyes as I wrote. Dang, I'm embarrassed to cry in front of a little squee… too much time spent will male military types… aaw… she has climbed to my shoulder and is nuzzling my ear and neck… I think she is trying to comfort me. I wonder how smart these little squee are? Whatever… it is nice. Certainly deserves a strawberry or two.