Ho there explorers! I have decided that it is high time we got an Uru map created for Team Fortress 2. I know that a number of you play already and I have to ask you, "Just how cool would it be to be able to run around Bevin and Kirel again?". Well, with your help we can make this a possibility! I can't do this alone so I am sending the call out to all you creative people to help make my concept of a Bevin vs. Kirel map a possibility!
I've started working on it some but if I do this alone it will not get done. While I will probably do a bit of everything I am asking for people to volunteer to help with everything. Some will be busier than others at certain stages and if there is something else that you want to do on this project than what you are assigned just ask for it! I won't/can't say no! So here are the positions I need filled:
World Builders: You will be in charge of building the map in Hammer. This includes the building of the walls and floors, lighting, prop placement, optimization and possible bug fixes. Don't be scared to ask to be a part of this because just a few weeks ago I didn't know hardly anything about Hammer. It's not particularly difficult to learn, it's more a matter of knowing what would work better if built in 3d vs being built in Hammer.
Texture Artists: Your job will entail referencing the original Uru Textures and repainting them in Photoshop to more closely match the 1950's illustrative style of Team Fortress 2. This will include texturing any and all of the 3D prop models created for this map, creating a custom skybox texture of the cavern, as well as creating the "propaganda" posters.
Prop Modelers: Your job will be to create custom models for the map as per the world builders specifications. While I can't guarantee that things will fit perfectly upon first installation it will the job of both you and the world builders to cooperate in ensuring that we get things to fit as closely as possible. Negotiations may have to be made as sometimes things may not fit as we all hope they would.
Writer: Your job will be to any possible scripting we may need to make everything work on the map. This job may also entail doing research on how to do certain things withing Hammer, 3DS Max, Photoshop, and any other program which we may use. I think this job should be an auxiliary position and hopefully everyone does a little of this in order to get a better grasp of their tasks as well as the project itself.
Concept Artist: Your job will be to take existing Uru items and possibly do some redesigns for them for the world builders and the 3d modelers. You will be responsible for keeping the props and map similar to Uru while not directly copying the designs themselves. The Overall look should be similar but hopefully the details will be more refined.
I have done a little bit of all of these job functions already just to dabble and get my feet wet. I do hope that everyone gets a chance to mix in with every function that they wish to in an effort to make this a reality.
Now, here are some of the things which I have put together as an example of what I am looking to do.
First are some shots of what I modeled in Hammer of the neighborhood fountain area. It's not particularly pretty but I just wanted to show it off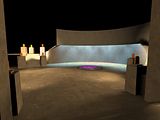 Next are some concept sketches of what I am looking for on the lights. You can see I have refined some of the details as well as made some additions to the lights to bring out some more interest in them. If you have any input to add that will help make the lights even better don't hesitate to speak up! Even if your idea isn't used it's still a valuable part of the project and will help to refine the look of the map!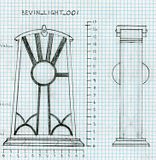 The scale here are inches. The shaded sections of Bevin Light 001 will be 1/4 inch thick and the outer frame around the "glass" will be a half inch thicker than the "glass" section itself. The "ball" on the side view are two hemispheres of "glass" rising off the glass. The intention is to possibly model a Firemarble inside the glass to define of the source of this lamps light.
The second image is much the same with the glass sitting in a half inch in the frame and the shaded design 1/4 inch in the frame. It, however, will be 1/2" thick when viewed from the front instead of the 1/4" of the first Bevin light.
We will be using either Skype or Steam to have weekly meetings on our progress as soon as we get a team together. When you sign up to help please also list what times will be most convenient for you to be able to make it to our production meetings! Thank you!
YAY! I have completed the two signs!
RED: Restoration Engineers of D'ni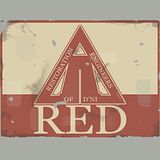 BLU: Bahro Liberators of Uru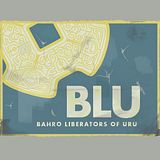 ALSO:
::DEVELOPMENT TEAM::
Mister Cloak : Floater
Kaelis : Modeler
Cakeman : Mapper
Kommatose : Web Guru
Textures : Luigihann (by the way Luigi, If you don't have steam it's free and the easiest way I have presently of contact until we get our website up)