It's interesting to see how the Pub has been changed and repurposed so many times.
It was originally shown in a screenshot for the 2003 incarnation of Uru Live. What's special about this version is that the alcoves weren't blocked off, and container seating and Ayoheek tables. Also, the passageway with the door on the upper level was blocked off by some sort of rock, and the imager in the middle of the room was something else (a fountain?).
[spoiler]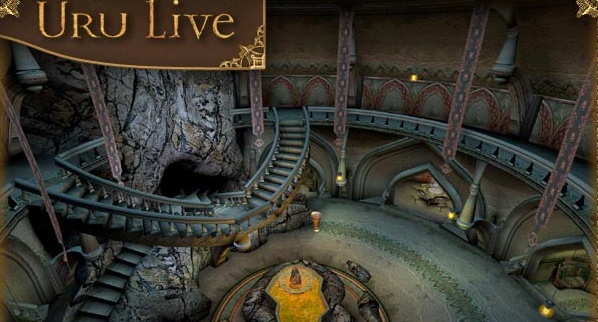 [/spoiler]
There's been some discussion that this might have originally been intended as part of the Neighbourhood Game Room, given the number of Ayoheek tables it contained. It would be great to hear from someone at Cyan what the original intent for this area was.
The one you can see in PotS is much closer to what we have today, but the ceiling is closed in, rather than the current open-aired view of the cavern. It was retextured from whatever Cyan had intended for their earlier version, and canonically placed in the J'Taeri district on the back side of Ae'gura island.
This version has all the alcoves blocked off, except for one alcove that was modified to lead to a balcony, and one that holds the Ahnonay and Er'cana books.
In the game files, it is called the "Restoration Guild", but in-game it is referred to as the "Watcher's Pub" or "Watcher's Sanctuary".
There is/was a misconception at the time of PotS that the Pub was in the cavern of Rolep, but that was a rumour started by accident that is not true.
Finally in MOUL, we got another version of the Pub, retextured from PotS with the puzzle door locked shut. This one has the open ceiling, with a view of buildings similar to those in the neighbourhoods. The alcoves here are still blocked off, aside from the balcony and books.
It's interesting that some of the textures in this version (such as the banners) indicate that they were intended for use in the Guild Hall. The Pub is also called the "Great Tree Pub" in the files, but retains the name "Watcher's Pub" in the Nexus.
The Guild Pubs are close to exact clones of the MOUL Pub, with some textures replaced, and more alcoves blocked off. In the Guild Pubs, the Imager is functional and player can upload KI images and KI journals.