Please give me two or three more things if possible. Two is too few to fill up a circle. Again, job, family, pets, hobbies, anything that you feel might set you apart from the next guy.
Using Yeesha's as an example, she has four: volcanoes, birds, spiral hands, and linking books. The volcano outlines represent the cleft and Tomahna, the birds represent her nickname of 'desert bird', the spiral hands represent her journey, and the books represent her Writing.
For the monogram itself, JayRho in D'ni would be
jAro
Or we could just use the initials JR =
jr
Which would you prefer? They will look something like this, although I'll need to refine them more.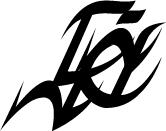 _________________
*
b'tagamem mot seKem ril ge'Dan Kenen reKElen faex b'sEnem ge'Dan
--
lårE leDA
Until next time! -- Larry LeDeay
3
# 11308
The Lost Library of D'ni