Hello.
I made a Uru cursors set for Windows; if someone is interested, I uploaded it on
deviantart.com/TheScarFr
.
TheScarFr's Uru (.cur):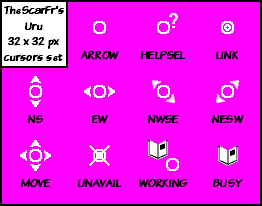 Feel free to share your own Uru cursors in this topic.
_________________
TheScar.fr
(In French or English.)
For some maps to find the Minkata Kivas, take a look at
this folder of my Cloud
.
Also, feel free to use any idea from
this folder
for MO:UL (currently 1 idea).
/?t - "jukebox"