Hey guys,
Just the other day, one of my relatives who played Myst came across these plants in a shop....
These are called Nepenthes. Lovely, although a bit carnivorous. Reminds you of anything ? No ? Aww, come on, think back to those days you were playing Exile...
Here is the answer, if you can't remember.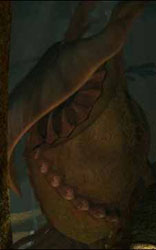 This is the big bad plant that traps the bird in Edanna, and reacts to electricity.
The Myst version is slightly different, with teeth in it's "mouth" (because, you know, anything with fangs is probably evil. This also applies to cats.)
Hope you like it !