I linked into Eder Gira first -- sort of tradition or habit, I guess. The pools in the two garden ages are shallow, so all I needed was climbing gear, a swimsuit, and a snorkel. Unlike Dereno, the water here is only cool, not frigid, so no special protective gear is required, thank goodness.
There's a bird called the Forest Hawk in Eder Gira, but my time schedule only allowed me to link in around sunset, and they are diurnal. Thus, I didn't get a chance to see one. This was made up for because the lower light level allows one to see the bio-luminescent coloring of the Gira Ray without it being washed out by the strong sunlight the days here bring. You can't see it in this photo, which is about the best of a series I took, but they have a single eye on the top of their bodies, near the front of the head.
[spoiler]
[/spoiler]
After snorkeling with the rays for awhile, I moved on to Eder Kemo. It isn't common knowledge, but the garden is named after a species of fish that can be found in the pool near the Eder Gira linking book. The Kemo is a very strikingly colored animal, and would look great over someone's mantel. However, I'm sorry, but I'll have to disappoint you rabid fishing types. Since currently only three are known to exist, they are very firmly on the Endangered Species list. So kindly keep your hands and hooks to yourself!
[spoiler]
[/spoiler]
An animal that startles many explorers on first sight is the Keanulint. It resembles nothing so much as a very large and fat scorpion, although it only has four limbs. It's harmless, though. It's a strict vegetarian, eating blue lichen that grows on the canyon walls. They seem to be territorial, since there are plenty of them, but they never seem to get very close to each other except during mating. The tail has what was probably a stinger in an ancestral species, but now it's adapted as a grappling hook. They hang over the canyon wall using the tail stinger as an anchor.
[spoiler]
[/spoiler]
Of course, no recounting of the animals of Eder Kemo would be complete without mentioning the friends of every explorer who answers Yeesha's call to follow the Path of the Hand. The Kemo Fireflies are curious insects that glow brightly and continuously, unlike the fireflies of Earth. They seem like they should be related to the Kiri of Negilahn, and may well have been imported from there.
[spoiler]
[/spoiler]
When I next had some time, I linked back to Eder Gira and climbed up into the mountains, a journey of two Earth days. Got there in the evening again and camped out until morning -- not a great imposition, since the day cycle here is pretty short -- and got a chance to shoot a picture of the Forest Hawk as it circled, hunting for prey. I'll let the picture speak for me.
[spoiler]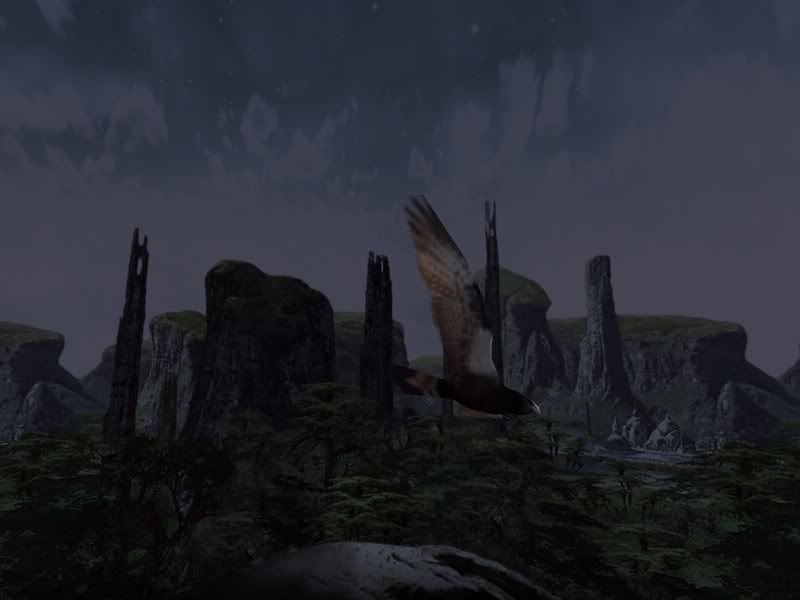 [/spoiler]
Note the stone buildings in the background. I didn't see any sign of movement or smoke from cooking fires around them, so they either mark a ceremonial site that is seldom visited, or the area or age is abandoned. I have no idea which may be close to the truth.
And that concludes my stay in the twin garden ages.
_________________
*
b'tagamem mot seKem ril ge'Dan Kenen reKElen faex b'sEnem ge'Dan
--
lårE leDA
Until next time! -- Larry LeDeay
3
# 11308
The Lost Library of D'ni